Ecommerce Business Models Supported by OrderCloud
In an earlier post on key entities in OrderCloud, I touched on how a flexible data model allows you to design a solution based specifically on the needs of your unique business. Here I'll dig deeper into some of the most common business models OrderCloud supports.
B2C
I'll start with the most straightforward and common model which is business to consumer or B2C, where a business sells product or services directly to the end consumer.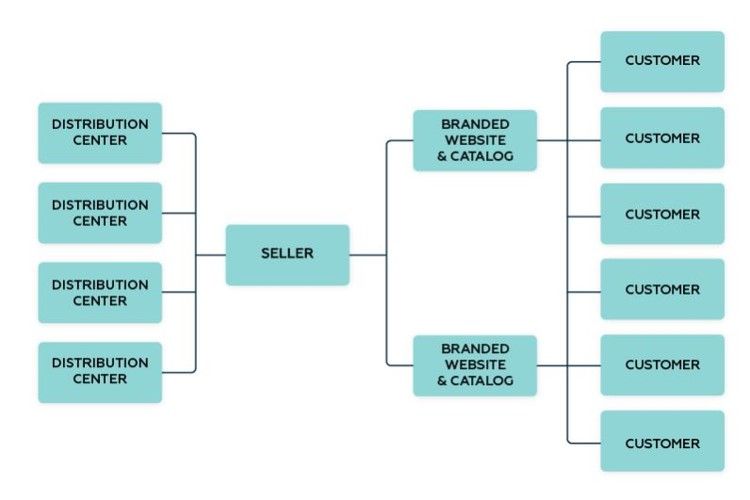 The B2C scenario modelled above allows a seller to setup multiple brands and catalogs for customers to purchase products and services as anonymous or authenticated users with a single customer login across websites. Orders can be fulfilled by one or many distribution centres will full support to easily integrate with any ERP and other third party systems. Integrations will be discussed in more detail in a dedicated post.
B2B and B2B Marketplace
In a business to business or B2B business model, a business sells product or services to other businesses rather that directly to to end consumers. A variation of that is a B2B marketplace model, where multiple businesses or suppliers sell to other businesses and the seller in the middle provides a platform to facilitate this.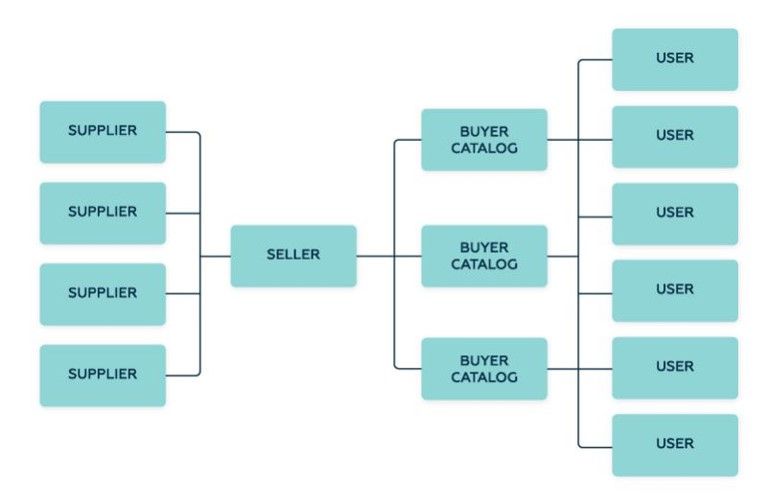 In the B2B scenario modelled above, you can setup multiple buyer catalogs with unique pricing and custom taxonomy for each buyer type. You can setup as many buyers and buyer groups as you need. In a marketplace scenario, you can also configure multiple suppliers for automatic forwarding of orders to the relevant supplier. Being a pure headless platform, you have the flexibility to to create custom admin portals with custom workflows for both buyers and suppliers to allow them to place/manage orders and fulfill them respectively. At the same time, you as the seller have full view of commerce operations.
Retail Franchise
In a typical retail franchise model a franchisee licences a franchise based on a centrally controlled name, branding, marketing, processes and products supplied by the franchisor. This model is quite complex and unique based on the franchise in question and requires a platform such as OrderCloud to implement customised portals and custom business logic based on the franchise operations.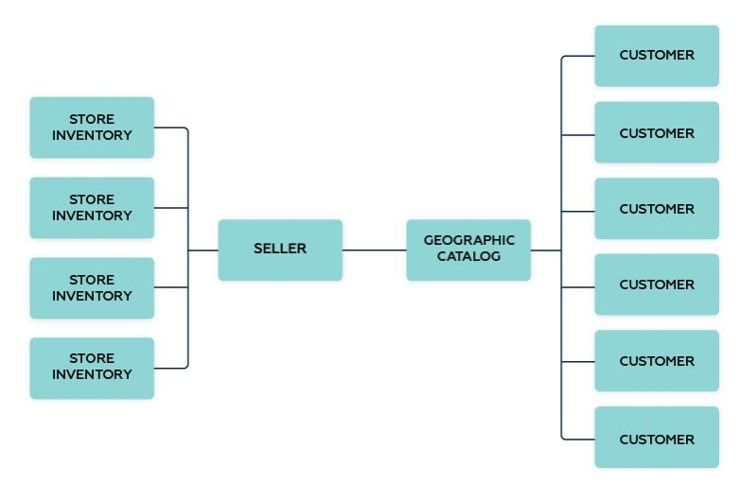 In the example retail franchise model above, you can setup a single unified catalog with different store inventories. You can also customise shipment and fulfillment options and have centralised store management. Additionally, you can setup multiple brands and stores all on a single unified platform. Other variations of the franchise model are:
A C2B2C franchise operator with a private B2C marketplace where consumers buy/sell products through a unified catalog through a network of franchisees.
A franchise operator with a private B2B marketplace where individual franchisees can place orders for products with the franchisor which are fulfilled by multiple suppliers.
Combination of Multiple Models
Given the flexibility of OrderCloud, you can mix and match different strategies and business models based on market needs and business requirements.
As an example, you could extend the B2B model above and setup one of the buyers as your B2C channel with separate catalogs and pricing for end consumers, while having other buyer groups in parallel for your B2B channels. As we saw when COVID hit in early 2020, many traditional B2B businesses tried to expand into B2C but struggled with incumbent commerce platforms.  
Other examples of mixed strategies are private B2B and B2C marketplaces described above in the franchise model.
The possibilities are limitless! And this is where I see the strength of OrderCloud- the platform allows a business to evolve and adapt to market needs, pivot to a different model if push comes to shove, and implement an omnichannel strategy without having to invest in multiple, fragmented platforms and without choice of technology being an inhibitor.
---
Hope you enjoyed this post! Stay tuned for upcoming posts where I will dive into topic such as catalog & product management, order fulfillment, pricing & promotions, and how to extend the platform with integrations.
References
https://ordercloud.io/discover/define-your-marketplace#commerce-strategies